UPCOMING CLASSES

Kintsugi I

Kintsugi II

Traditional Paint Making

Flowering Chinoiserie

Grand Venetian Murals with Pascal Amblard
Decorative Gilding
dates TBA | Instructor: Lynne Rutter
In this intensive 3 day workshop, learn numerous techniques for gilding decorative objects and frames, adding gilt accents to furniture or architectural features, and creating beautiful gilt surfaces for artwork. This class takes a practical approach to incorporating gilding into your work by emphasizing an understanding of proper preparation, application, and finishing techniques.
Participants will create their own set of decorative gilding samples and will complete a dazzling class project from a selection of designs incorporating gilding, ornament, and painting, according to their level of experience.
This workshop immediately follows a two-day "Gilding for Painters" class: take both classes as a 5 day course, and save $50!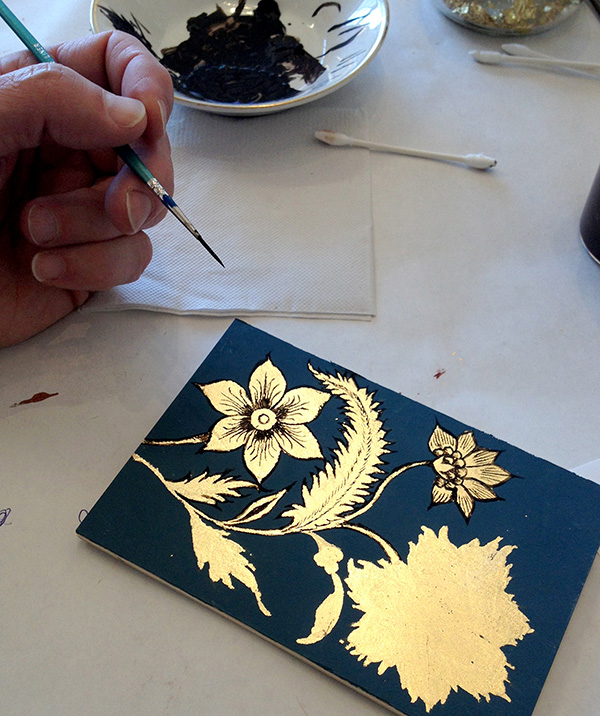 Appropriate and effective choices of materials, both historic and modern.
Techniques for traditional water gilding
Making and using traditional materials: rabbit skin glue, gesso, bole, egg tempera, and shellac.
Mordant or "oil" gilding , using genuine gold leaf as well as composition metal leaf.
Sgraffito, punchwork, and other decorative techniques for decorative gilt surfaces
Compatible paints and finishing techniques for gilt surfaces.
class fee:
$875 | materials fee: $175
reservation-deposit $350.
includes sample mouldings, project panels, paints and media used in class, designs, and detailed class notes.
Materials fee includes gilding tools, one book of 22 karat gold leaf, 3 books composition leaf.
Lunch and refreshments are also included
location:
Lynne Rutter Studio | 2325 3rd St. #207, San Francisco, CA (
map
)
Class hours:
10 AM - 5:00 PM.
Reservations
Space is limited to 6 participants, and advance registration is required.
WELCOME
to the workshop page!
Lynne Rutter Studio occasionally hosts decorative painting and mural classes and specialized workshops on the finer points of decorative art, gilding, and finishing, taught hands-on by established, practicing artists in a spacious, working atelier. Classes emphasize traditional techniques and materials and practical methods.
gilding
painted furniture
faux finishes
imitation wood and marble
furniture finishes
water gilding
ornamental painting
chinoiserie murals
gilt chinoiserie
trompe l'oeil
traditional paints and materials
mural painting techniques
scagliola
cloud ceiling murals
specialty finishes
florentine furniture painting
"What a great, immersive experience, to learn something- really learn something I can use- in such a wonderful space... "
"Thank you! I loved everything about this class- the work, your generous teaching and humor, the magnificent studio space, and the great food! Please let me know as soon as you schedule another class!"
"This is what I want to do and you have totally encouraged me to do it. I didn't want to leave your studio, I had to much fun..."
"Thank you so much for taking the time to teach us. I haven't been so inspired in so long! Looking forward to more classes. "