Gilding for Painters
Two-Day Workshop
June 21, 2019 | at the Society of Gilders Conference | Instructor: Lynne Rutter

This class is being taught through the auspices of the Society of Gilders for the conference in St Paul, Minnesota.
Join Lynne for this special one-day workshop on the practical uses of gilding for flat and painted surfaces: as a finish itself, as a rich background for artwork, and as an accent to painted ornament. Don't just glue metal onto your work with some craft kit, find out what it takes to elevate that idea to real gilding that make your work truly shine!
Emphasis will be given to proper preparation, finishing techniques and decorative uses, as well as appropriate and effective choices of materials both traditional and modern.
Using different types of metal leaf including genuine gold, composition leaf, aluminum, copper, and various applications methods, participants will create their own set of gilding samples in hands-on practice.

This class may serve as an introduction to the fine art of gilding, but those with previous gilding experience will have ample opportunity to improved their techniques in this intensive workshop. Bring your projects, ideas, and questions so we can tailor the class to your needs.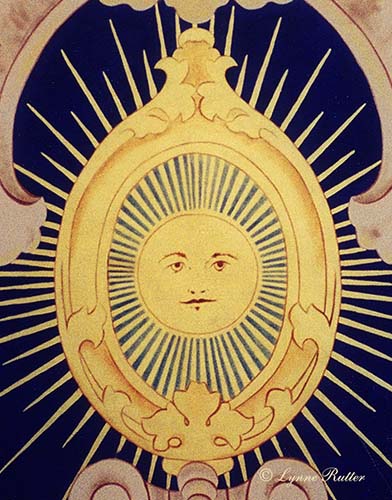 Not just for frames anymore: gilding can be used as a brilliant finished surface or as part of painted ornament.

Mordant or "oil" gilding for painted surfaces using genuine gold leaf as well as composition metal leaf.
Best practices for preparation of gilt surfaces
Effective methods to laying leaf in a perfect grid pattern
Finishing techniques for gilt surfaces using both traditional and modern materials.
Decorative techniques
Practical considerations for using gilding as the base for artwork or as an accent for ornament
Discussion of traditional water gilding and the differences between techniques and uses.
class fee:
$360
includes materials fee of $125
materials fee includes one book each of 22 karat gold, composition leaf, aluminum, copper leaf, and all materials and painted panels used in class. Detailed class notes are also included.
discounted fee:
$50 off class for Society of Gilders members. Log in prior to sign up to receive your discount
Not an SOG member?
I encourage you to join!
Get discounts on this and other great gilding classes taught by experienced working gilders!
location:
Lynne Rutter Studio | 2325 3rd St. #207, San Francisco, CA (
map
)
Reservations